Kat Stephens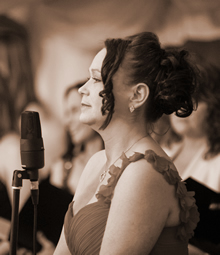 I absolutely love helping someone find THEIR authentic sound, and create THEIR own, personalised vocal tool box, to enable my student to sing the way THEY want to!
I am a certified BAST (Be a Singing Teacher) Trainer, teaching singers to become singing teachers.  I am a member of VIP (Vocology In Practice) a global network of singing teachers.  Since starting my teaching journey at Speech Level Singing, I haven't stopped studying, developing my knowledge, and finding out everything I possibly can about vocal production.
I am totally passionate and dedicated to encouraging and empowering my students to fulfil their full potential, and achieve their goals and ambitions. I want all my students to enjoy singing and performing, with their own unique personality and style.
I teach both individual and group lessons from my home studio in Towcester, and at local schools.
I have had to overcome some serious vocal problems myself and that experience is my best teaching tool, because I can empathise with my students and help them to find a solution to their problems.
Prior to turning my focus to teaching, I  performed in Jazz, Cabaret & Musical Theatre settings, sung as a featured soloist in big bands, quartets, and duos as well as writing and recording my own material.
"Kat is an amazing teacher.  She makes each lesson really fun.  She always smiles and says encouraging words.  What I enjoy most about having singing lessons with Kat is the skills she teaches you to hit a whole range of notes that you would never hit on your own. I have absolutely loved my time working with Kat and recommend it to anyone interested in singing for pleasure or for a career – she really is an inspirational teacher" – Lauren Flower