Kat Stephens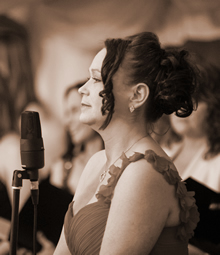 I am a qualified Speech Level Singing Teacher, certified by Seth Riggs to teach Speech Level Singing(SLS)™. I am totally passionate and dedicated to encouraging and empowering my students to fulfil their full potential, and achieve their goals and ambitions. I want all my students to enjoy singing and performing, with their own unique personality and style.
I teach both individual and group lessons from my home studio, and at schools around the country.
I have had to overcome some serious vocal problems myself and that experience is my best teaching tool, because I can empathise with my students and help them to find a solution to their problems.
Prior to turning my focus to teaching, I have performed in Jazz, Cabaret & Musical Theatre settings, sung as a featured soloist in big bands, quartets, and duos as well as writing and recording my own material. I still perform in concerts and in a jazz band.
Please check out my Gig Listings and recordings.
Qualifications and Training (chronologically)
Introduction to Kodaly 1 Day Workshop (Nov 07)
Sing Vocal Studio Weekend Performance Workshop (Oct 07)
Boko Suzuki (Broadway Musical Director) Workshop & Lecture (Aug 07)
Adam Hunter Acting, Audtion and Perfomance 10 Day Workshop (Jul 07)
Certified Level 1 Speech Level Singing Teacher (Jan 07) working towards my Level 2 Qualification
'Developing Voices' 1 Day Workshop (Apr 07)
Performance Masterclass – Joshua Finkel (Oct 06)
Acting Workhop – Proactive Theatre Company 10 week course (Sep 06 – Dec 06)
Musical Theatre Workhop – Proactive Theatre Company 10 week course (Jan 06 – Jul 06)
1 yr BA (Hons) Primary School Teaching Degree Course – Nottingham Trent University (1995 – 1996)
Classroom Ancillary, BTEC National Diploma (1994 – 1995)
Studying piano
Chaperone Licence
"Kat is an amazing teacher.  She makes each lesson really fun.  She always smiles and says encouraging words.  What I enjoy most about having singing lessons with Kat (Aspire) is the skills she teaches you to hit a whole range of notes that you would never hit on your own. I have absolutely loved my time working with Kat and recommend it to anyone interested in singing for pleasure or for a career – she really is an inspirational teacher" – Lauren Flower