Welcome to Kat Stephens Vocal Studio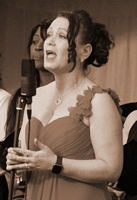 I'm a qualified Speech Level Singing Teacher & Professional Vocalist based in Towcester, Northants. I provide personal, individualised instruction to help and encourage my students to achieve their true vocal capability. I teach from my home studio and at local Theatre Schools, including Redroofs Associates and Jackie Palmer
Do you want?
To gain Vocal Confidence?
To improve your vocal range?
To increase your vocal control & flexibility?
To have fun and enjoy singing?
What do Michael Jackson, Madonna, Tamia, Ray Charles, Michael Bolton, Bette Midler, Jennifer Lopez, Janet Jackson, Bryan Adams, Julie Andrews, Liza Minelli, Lionel Ritchie, Tina Turner, Josh Groban, Faith Hill, Natalie Cole, Ricky Martin, Quincy Jones, Luther Vandross, Kelly Clarkson, Bernadette Peters, Julio Iglesias, Whoopi Goldberg, Stevie Wonder and Prince have in common? They are a few of the hundreds of artists that have been taught a vocal technique that helped them gain vocal fitness and get them through trouble spots, that technique is called Speech Level Singing (SLS™)
Whether you love to sing Pop, RnB, Musical Theatre, Jazz, or Opera, through SLS™ you will gain a healthy vocal technique that will strengthen your voice, increase flexibility, smooth out the bridges, improve your range and ensure longevity of your vocal career. Students of SLS™ report positive results in only a few weeks of application.
Thanks for visiting! Be sure to come back and visit again soon!