Catherine Rayner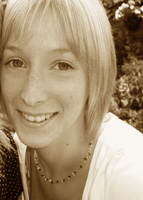 "Singing in front of anyone, even my family has always been something I've avoided. However in attempt to pursue a career as a Dancer, I found I could shy away from it no longer. Kat's warm and bubbly personality combined with her singing technique has transformed my voice and confidence levels significantly. Coming to her as a total beginner, she has taught me the importance and way to use your voice correctly; in turn producing notes I never thought I could reach! Her professional experience within the industry has been beneficial in passing on audition tips, and has made me feel at ease with what was before a very frightening prospect! Her patience and compassion is constantly encouraging – making her more than a teacher, but a friend too. Kat's dedication and passion for singing has helped me overcome my fears allowing me to finally enjoy it!"
Catherine Rayner, 18.
'Theatre Dance' Degree applicant.